Three years ago this month, Michael Zimmerman explained the freight brokerage market to me at his house in CT. It quickly felt like the perfect market for Zeke and I to start our company - fragmented, transactional, and massive. I continued to study the industry, but it wasn't until my first trip to Chicago a few months later that I started to learn what #freight was really about — the people.
The first person I ever discussed my "A.I. freight brokerage idea" with was Alexander Schneider over breakfast in Evanston. Alex said he liked the idea, but I should talk to his friend Bill Driegert who had worked at Coyote and knew "all about this stuff". I didn't talk to Bill at the time, given he had just started Uber Freight, but from that one node - a new networking challenge was born.
Knowing that Chicago was the right place to start this business, my wife and I moved to Chicago in February of 2017. Soon thereafter, we hired Ryan Schreiber to start our internal brokerage. I was fascinated with Ryan's knowledge of the industry. I'm sure it was within the first few hours that I heard the names "Paul & Jeff" and "The Backhaulers Guys" for the first time. And I continue to learn about their influence to this day.
A few months ago I was trying to explain to a friend how deeply connected this network is. Instead of a thousand words, I started using my favorite tool (shoutout @MindNode) to explain, and...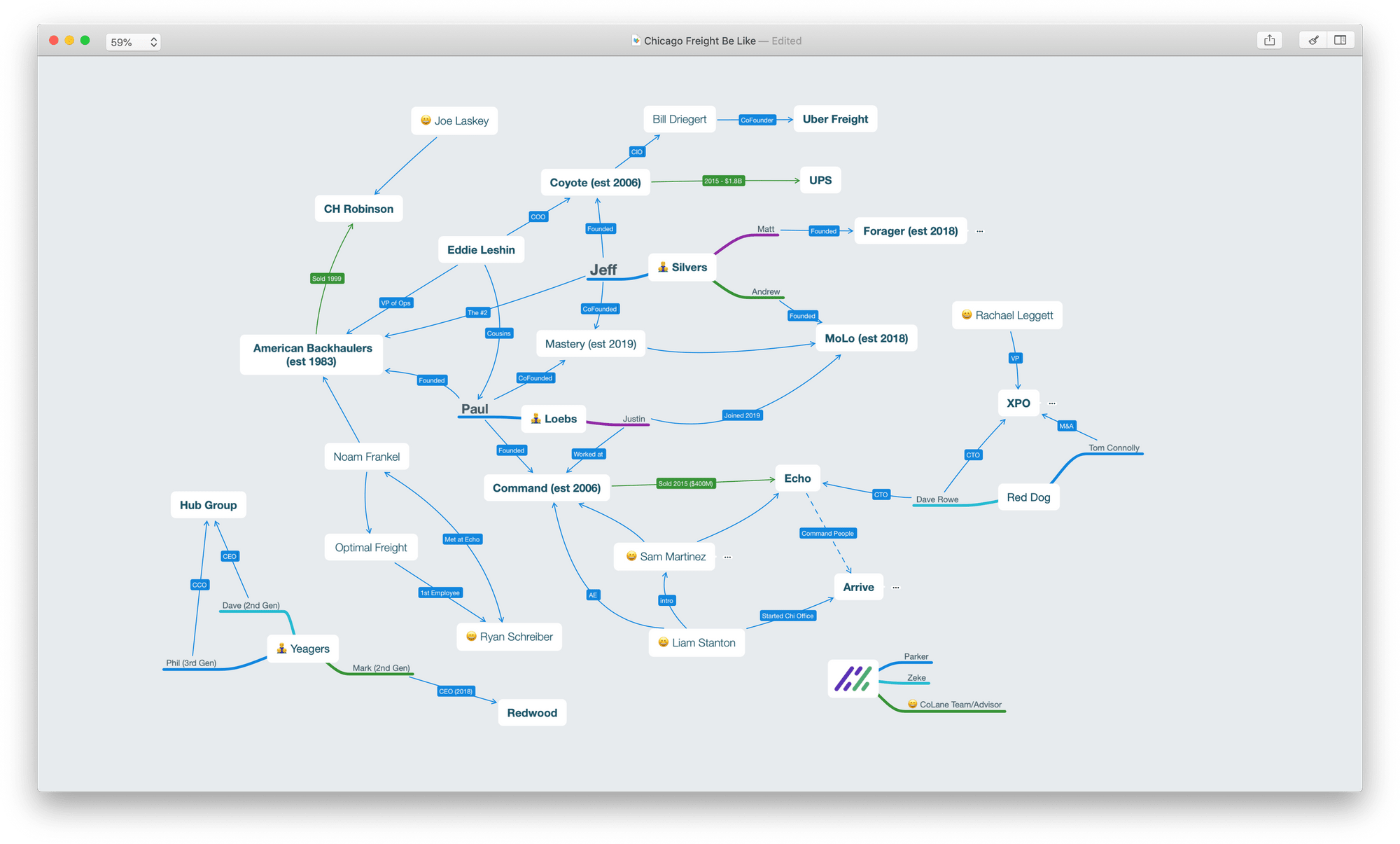 One of the things I love the most about our industry is the shared belief that "a rising tide lifts all boats". There's just so much opportunity out there, we all know that collaboration beats competition. Everyone I've met in the network has been eager and willing to make connections, introductions, and fill in the gaps.
So... internet... want to help me fill in the gaps? I know there are errors and omissions. Send me bug reports!
Slide into my DMs or shoot me an email parker [at] shipcolane.com.