This year marked my 8th year in a row at the CSCMP EDGE conference, and first with CoLane. This year the event took place in Anaheim, CA and welcomed 3,000 different supply chain professionals from all over the world. I attended the conference with our Founder & CEO, Parker, who was honored with the Emerging Leader Award.
With so much going on, none of us could make it to every session. So here's it broken down into 5 key points.
#1 - Smarter decisions > smarter systems
This year data, systems, and "visibility" were the talk of the conference.  Leveraging technology for everything from selecting carriers to scheduling appointments was repeated as the key to success, session by session. As a technology forward event, there's nothing particularly new about being optimistic about the applications of technology.
But what was new this year were the much more realistic expectations about the cost/benefit analysis of overhauling your systems. Right now the market is saturated with new entrants with new definitions of visibility, new competition from tech logistics providers and digital brokers, and old technology dogs like IBM and JDA learning new tricks (at a high cost of capital). Shippers a getting wary of the high implementation costs of these huge systems, and the risk that after years and millions of dollars of cost, they might not work at all.
Through all of this, the consistent takeaway is that these smarter systems will not be the winning piece in the strategy pie if they don't first empower people to make smarter decisions.  
The technology can only take you so far - it is the smarter decision making and what you decide to do with this new level of transparency that truly define the impact of these new smart systems.
#2 - Consistency is king
On-time delivery (OTD) has long been the gold standard KPI of "quality service" in transportation. But the benefits of consistency and predictability go far beyond one KPI. Maybe one carrier has 92% OTD stat, but what was their tender acceptance rate? And how frequently are they sending in the same driver to your facilities?
In an increasingly transactional world, an emerging trend we noticed is the importance of "recurring carrier score". In other words, does a 3PL send in transactional "one load wonders" to you shippers and receivers? Or do they find core carriers who feel like partners in your supply chain, and want to get to know you.
In our opinion, everyone wants to work with a familiar face.
#3 - What real-time visibility really means
Visibility is so 2018.   It's a term so commonly used to describe dashboards, blue dots tracking shipments in apps, and monthly reporting information that we have already lost the sense of what information we sought to gain / provide in the first place.  Visibility needs to be a value-add to companies and carriers, not more information for them to sift through to find answers.  
Real-time visibility gets us a bit closer, giving information at least fast enough to do something with it, but still only gets us so far.  The requirement for customers to process and analyze this real-time data to make impactful decisions requires a pretty in depth knowledge of what a shipment is supposed to look like, when on-time tracking is on-time and what constitutes a delay.
Proactive, analyzed, and action-based outputs to customers is where visibility can make a real impact.  We at CoLane call this Transparency.    We provide our customers with information like transit time measured in hours to better understand how routes are impacted by ELD's and HOS, ETA's to delivery rather than just a tracking update, and communicating what % automation we used to move lanes and loads.  This information provides our customers actionable tasks on freight moving, taking the work off of them and making ourselves more than just a truckload broker.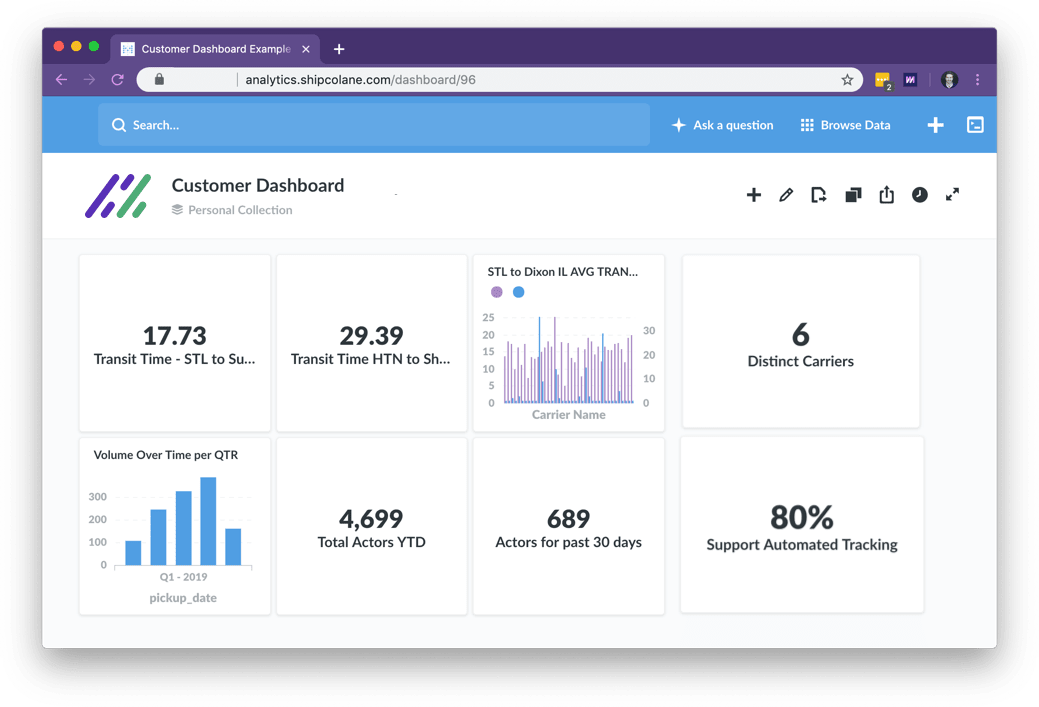 #4 - Innovation is Happening Everywhere in Supply Chain (But only in niche pockets)
Supply chain and logistics is hungry, hungry for innovation, hungry for disruption, hungry for a better, faster, more transparent way to do business.  This was evident in all the business cases, success stories, and customer / provider dual sessions we saw in Anaheim.  The appetite for this level of innovation seems rampant but the only companies sitting down to lunch are those  with focused collaboration between partners to identify niche opportunities rather than a mass overhaul.  
We have been talking about Blockchain for years, with minimal implementation by companies. Anyone else remember what it was like in 2012, when 3D printing and just-in-time manufacturing was going to disrupt the entire logistics industry? I do.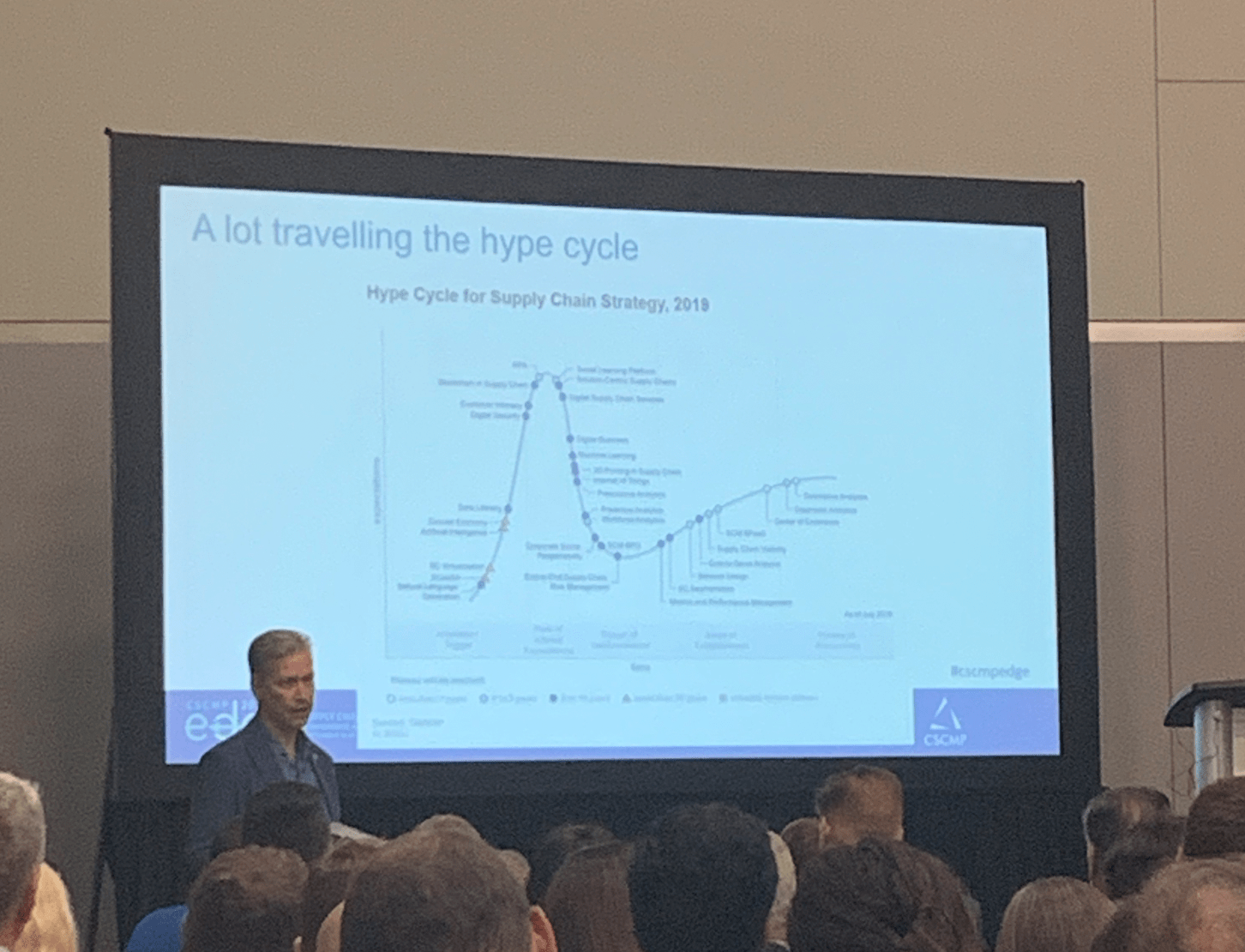 So how do we duplicate innovation and success when it only seems attainable through NDA's, data vulnerability and large time commitments from senior leadership?
The answer is to find companies that are building a better mousetrap.  Look for innovation not at the top, but at the foundational level where new ways of doing old things has real impact.  Secondly, understand what moves the needle for your company, and what influence you have to participate in innovative conversations via procurement and operations.
#5 - CSCMP EDGE remains the marquee event for logistics and supply chain
The main takeaway from CSCMP EDGE 2019 overall was that this is the place to be. And no, this is not an #ad.
The content, speakers, community, and level of engagement from members (customers, carriers, suppliers, 3PL's, academics, and everyone in between) in unmatched.  I heard and engaged in so many conversations about the value CSCMP creates to support individuals throughout their career - and loved the infectious buzz it created, and made me glad to be part of.
With over 3,000 attendees in Anaheim this year, the blend of academic content and practitioner content proved this event had something for everyone. The Supply Chain Exchange had everything from warehouse robots, to virtual reality simulators @RaymondCorp, making booths a hands-on experience this year.
With so many options out there to connect, educate, and develop a career in supply chain - CSCMP takes the cake for the best place to accomplish all three.   And if you can't make the trek or bare the cost for the EDGE Conference, get involved as a member in your local Roundtable and start building your peer network in your own backyard.